So today was my last day at work (I had a 5-month contract position) and I'm not gonna lie, it's a little sad to leave. I met some really great people, got to take on many different tasks and more responsibilities, enjoyed the Olympics while working Downtown, and even got to participate in a team curling event! Good times. I gained some good experience and now all I can do is hope that something opens up, or that I find something similar elsewhere :)
Alright, we're on to the next Marcelle product review! This e/s is awesome...and I highly recommend it.
Marcelle's Wet & Dry Eye Shadow Duo in SAHARA
I use the light colour all over my eyelid and the dark brown colour on the outer edges of my eyelid. This e/s blends amazingly well and has great pigmentation. You only need one sweep to get the e/s onto the brush; I know many other shadows where you have to swipe it over and over again to get some colour on it. Also, I like this specific colour because it would match w/ all skintones and is perfect for everyday wear. I've been wearing it every day of work since I started using it!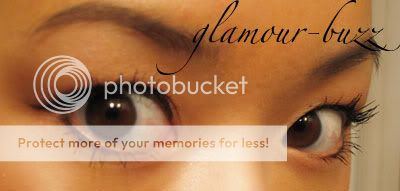 As you can tell from the pictures, it's a very natural, soft look...but I love how blendable and pretty the e/s is! It's also very buildable but I didn't go too heavy, since I was going out shopping the day I took these pictures. So let's weigh it out...
Pros:
Very blendable
Nice colour
Cute case & easy to open
Includes an applicator for on-the-go
Great staying power
Cons:
Selection of colours are limited (I want more!)
Overall, I really love using this e/s for its ability to blend well. I like the colour as it works for every occasion since you can use it to give yourself a natural look or darken the look and give yourself a more dramatic, sexy look. This is a great eyeshadow - you will love it!
On another note, I just had my first makeup haul! Since my boyfriend's away in Cuba, I thought it'd be a good opportunity to have my own solo adventure...lol I went to the States for a day of shopping on my own! I thought it'd be super relaxing but I gotta admit, it felt lonely at times. BUT I had a super successful shopping day and didn't get taxed at the border! Woohoo!
Here's what I picked up from Sephora & Target. The only items from Sephora were the Tarina Tarantino lipstick and the Bare Escentuals bareVitamins Skin Rev-er Upper...both of which I already think are awesome. The rest, I picked up from Target for dirt cheap! Throughout the aisles, random items were marked as "Clearance" for only $0.68-2.68. The Ardell lashes (one's for one of my girlfriends) were recommended to me by a friend. They're semi-permanent lashes that you can apply by yourself! I have yet to try it but it seems pretty easy to do. I'll let you guys know how it goes..haha The Maybelline eyeliner (one's for another one of my girlfriends) was also recommended to me by a friend, Makeup Mama. I tried it today and already love it. I've thrown out my Wet n Wild cream liner as this one definitely trumps it. Some of the above items will be in my first Giveaway - so stay tuned ;)
I'm off to take a quick nap and then I have to get ready for tonight! The Beatnuts are performing at Fortune tonight and since I don't have work tmw, I got a group together and we're gonna go party party!

*****UPDATE*****

I forgot to try the Marcelle eyeshadow wet, as this e/s can be used wet or dry. This is the first time I have ever used an e/s wet and I gotta say - I love it! It makes the colour come out a lot better and as long as you don't use too much water like I did the first time, it works terrifically.